Frequently Asked Questions (FAQ's)
I am very nervous in front of the camera……..help!!
The good news is, you are not alone. However, after the first half an hour of the day most brides tell me that they don't even remember me being there with the camera. When it is time for the couple portrait shots I do intervene a little and give direction to ensure you get the best.
Do I get all of the images taken on the day?
You will receive only the best images from the day, I guarantee 250 however this number is typically closer to the 400 mark.
What happens if we are running behind schedule?
I am more than happy to accommodate minor overruns in the timing of your day and of course you can request that I stay longer which will be chargeable at my hourly rate.
Do you take group shots and formals?
Yes absolutely, although I choose not to show group shots in my portfolio for most families this is still a very important part of the day, photographing all the family members and your nearest and dearest that joined you on your special day.
Do you have insurance?
Most definitely, Pete has  all of the necessary insurance.
Do you travel?
Pete is available for bookings throughout the UK, Europe and the rest of the world.
Do you photograph details?
Yes, I don't go over the top with details shots. However I would encourage this sort of discussion in our pre meeting so I can understand where the important details are in your wedding so I can make sure they are captured.
How do I book you?
Use the contact form, send me and email or pick up the telephone to discuss your requirements. Then I will send you a quote and a contract. When the booking fee is paid the date is confirmed.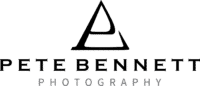 Copyright Pete Bennett Photography 2023